One of the questions I get asked all the time is "How can I use Facebook ads for B2B?" or "do Facebook ads make sense as part of a B2B marketing strategy?"
I will often answer with an emphatic YES! See, even though a lot of us think of Facebook as a place to kill time and not think about work, it's still a platform that we as marketers can really use to distribute our content and get it right in front of the ideal person that we think should read it.
See, the true value of Facebook advertising comes in a few key areas:
Targeting
Branding
Tracking
1. Advanced Targeting
When used correctly, you can precisely target your ads based on geographic location, job title, interests, demographics and psychographics and more.
Want to target someone that travels a lot for business? Cool – you can do that.
Want to get in front of someone that is selling their home? Yup, that too.
How about iOS users but not Android users? Uh huh. You can do that.
We all know the value of getting the right message in front of the right person, so with Facebook ads you don't have to waste time broadcasting a message to anyone that is searching a keyword that you're bidding on (because you're not bidding on keywords — you're bidding on the visibility of your ads based on the targeting that you deploy).
2. Branding
What I love about Facebook advertising (and Instagram and YouTube for that matter) is that they are branded experiences for the viewer. What I mean by that is an ad on the Facebook platform looks like real content that a user is used to seeing on the platform — it's got a profile image, real copy, images/videos, comments/likes/shares, etc.
It actually looks like non-paid content!
An effective Facebook ad looks and "feels" like content that would normally be found in their feed. It should be valuable, provide a solution to a problem they may be facing (or a product, event, or something of interest to them).
Contrast that with Google, where ads are simple blue text on a white background – a completely debranded experience. It's no wonder many marketers are taking budget away from AdWords (or at least considering it) and pushing it towards Facebook.
Which do you prefer?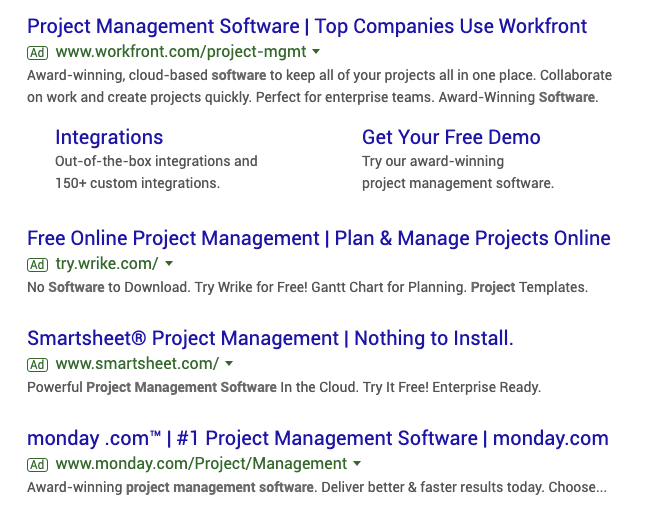 – or –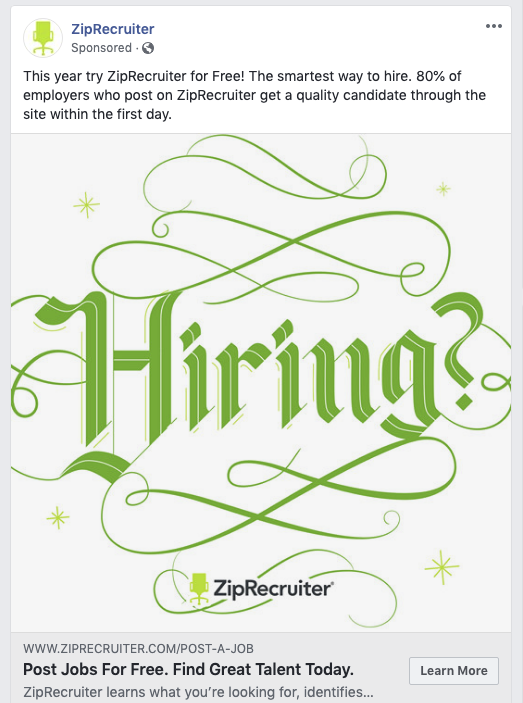 I don't know about you, but one caught my eye, they other I didn't even notice.
3. Tracking
All marketers want to know what is working for them and earning ROI. Facebook's tracking, called a Pixel, really helps us to know how our ads are performing and where our marketing spend is going.
By installing your Facebook Pixel code on your website you can learn where bottlenecks are in your conversion funnel, what customers are doing on your site once they visit from a paid-ad, and you can even use it to run re-targeting ads for customers that did not convert or purchase.
While the tracking is not necessarily better than what you can do with Analytics or other tracking utilities, having it so closely integrated with your platform is great.
How to Use Facebook Ads for B2B
OK I hear you asking "But how can they be used in B2B?" and I'm gonna answer you right now:
Facebook ads can be used in B2B if you forget everything that you think you know about online advertising.
Go head. I'll give you a few minutes.
.
.
.
OK, all forgotten?
Great.
We all know this to be true: Most Facebook users are not using the platform to actively search for answers, vendors, products, etc; the way that we are all using Google to do just that. But that's what makes it so powerful!
Remember that advanced targeting I talked about? Using Facebook ads we can now take the ad-serve from being reactionary (triggered by a keyword query) and debranded (blue text on a white background) to being proactive (targeting based on a user profile and their interests) and immersive (using video, social proof (likes, shares, and comments) and images).
That totally changes how the ad dynamic works in B2B!
By unlearning what we knew about online advertising, we can now think about Facebook and it's ad platform as a way to proactively reach our audience and provide them great content that would be of interest and of value to them. In some ways this actually turns into another content distribution channel of a good content/inbound marketing strategy.
But many times the B2B buying process is long and a customer won't just buy right away. That still is ok for Facebook ads. If we shift the approach from being hard-conversion focused (e.g. scheduling a demo or meeting or buying directly) to being a more soft-conversion goal (opting in to a newsletter, liking you on social media, etc) we can still see tons of value and begin to calculate ROMI.
A great way to make Facebook ads in B2B successful is to drive customers to take action and become engaged with your brand at the top of the marketing funnel. Enroll in a webinar, download a video series or ebook. This allows you to nurture your customer through the buying journey with more great content until they may be ready to buy.
Want to take the first step into seeing how Facebook ads can help you with growing your business? Let us help.